March 17, 2019 - We had District Conference this last Saturday and Sunday. President Vest (our Mission President) shared a story: A man went to visit a community that had been replicated to look just like an early colonial village with homes, costumes and businesses that were made to be similar to the originals. Everyone was dressed in period clothes while they busily went about their activities. He went into one of the homes for a demonstration of cooking and other common chores. He found the home to be quite cold. There was just a small fire in the room where the demonstration was being done. The fire was clearly inadequate; and he wondered why they didn't build a larger fire. After the demonstration had been completed and everyone was leaving, he finally asked the lady, "Why don't you build a larger fire, it was really cold in here?" The lady told him, speaking with quite an accent: "The fer is not to worm the huse; the fer is to worm the person. If ye be cold, move closer to the fer!"
Translation: The fire is not to warm the house; the fire is to warm the person. If you are cold, move closer to the fire!"
If you are struggling, move closer to the fire – that is, move closer to the source of all truth and knowledge – our Savior, Jesus Christ. Too many times, we move away from doing the things that we know will keep us close to the Savior and on the right path and we get cold or that is to say, we lose the spirit. So, if ye be cold, move closer to the "fer"!
President Vest shared the Parable of the Great Supper (see Luke 14). The Savior tells of a great supper that many were invited to attend. Several made excuses and didn't come to the feast. I will invite you to read and study the Parable on your own. The main point being that we should not make excuses when the Lord invites us to the feast - so we all decided the theme of the conference was:
Come to the feast and move closer to the "fer"!!!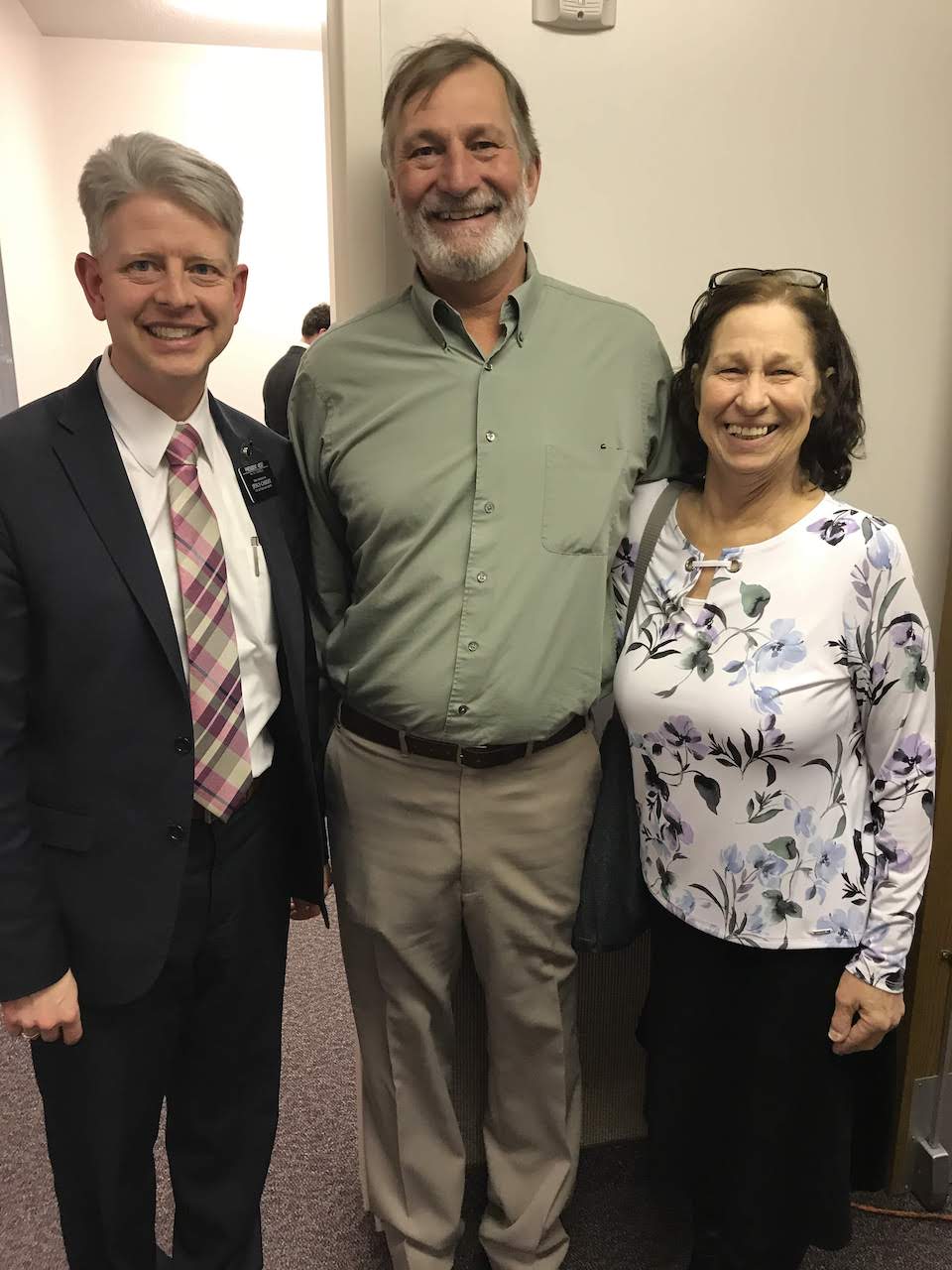 Karen who is a recent convert in the Massena Branch was asked to share a little bit about her conversion and this is what she shared:
Three years ago, I was sick in the hospital. I found out that I had an aneurism. My parents (who had been dead for about 10 years) came to me and wanted me to go with them. I told them no. I was really, really scared. I didn't want to die. I had this warm feeling with soft lights for a couple of days after they came to me. I wasn't afraid any more. I had surgery and they put in a plastic aorta. I'm like the bionic woman.
Then last fall I was diagnosed with cancer on the back of my face and on my tongue. I got home from the doctor's office and was sitting in my car and I was crying. I remembered thinking what my grandmother always told me: When the Lord closes a door, he always opens a window. I got out of my car and closed the car door and looked up and saw two Mormon Elders walking up my driveway. They talked to me for a few minutes and they said that they would come back. The Elders did come back and brought President Chapman (Massena Branch President) and they came with more Sister Missionaries and more Elders.
I went to church and got those same warm feelings when I decided to not go with my parents. I know this where I am supposed to be.
Karen was baptized in December 2018 and we have all been so uplifted to know her and feel her wonderful spirit.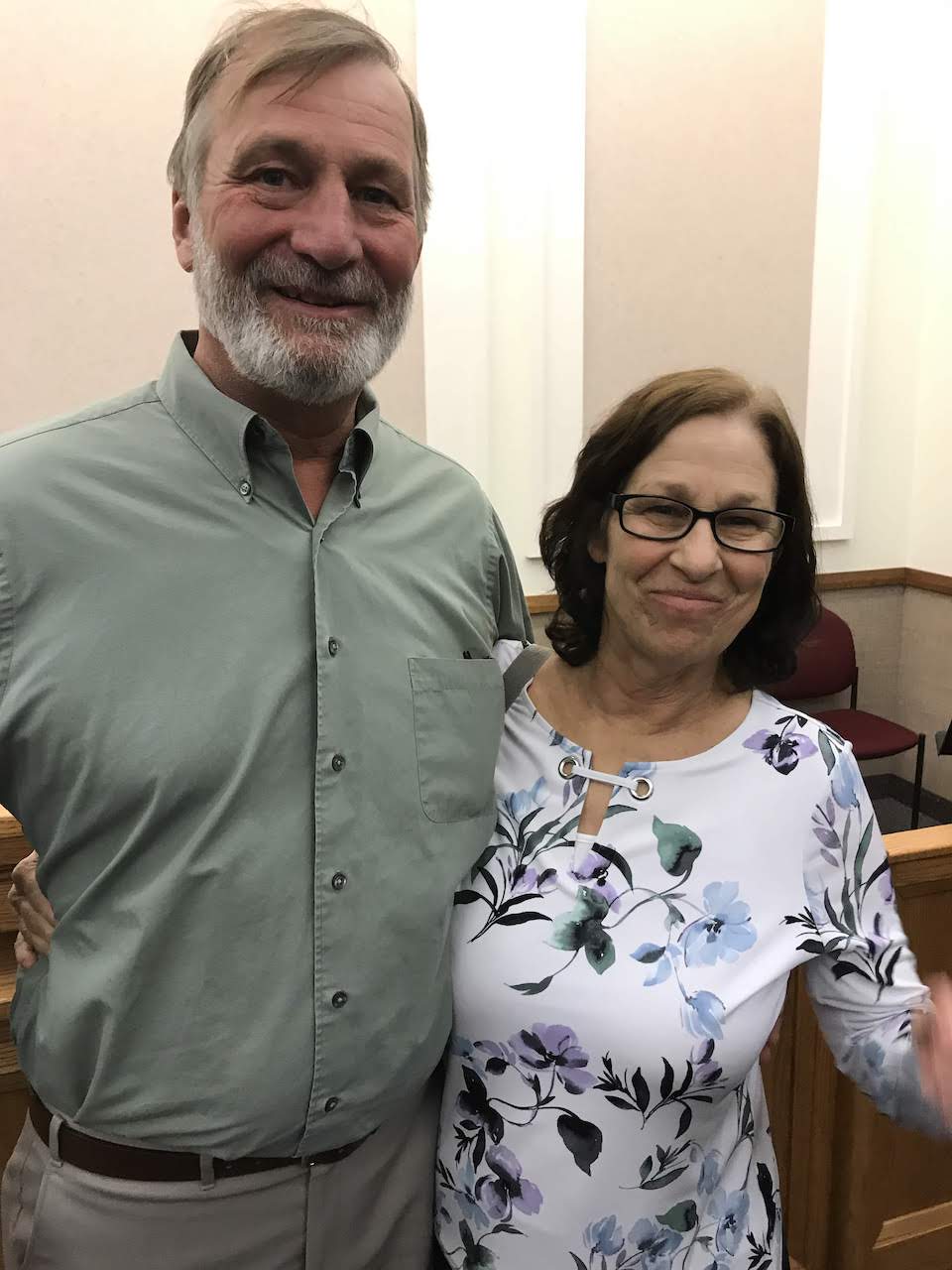 We didn't have any pictures of the Sisters last week, so we thought we'd better include a picture of them having lunch with us. It's transfers this week (sad day - we don't want to lose them).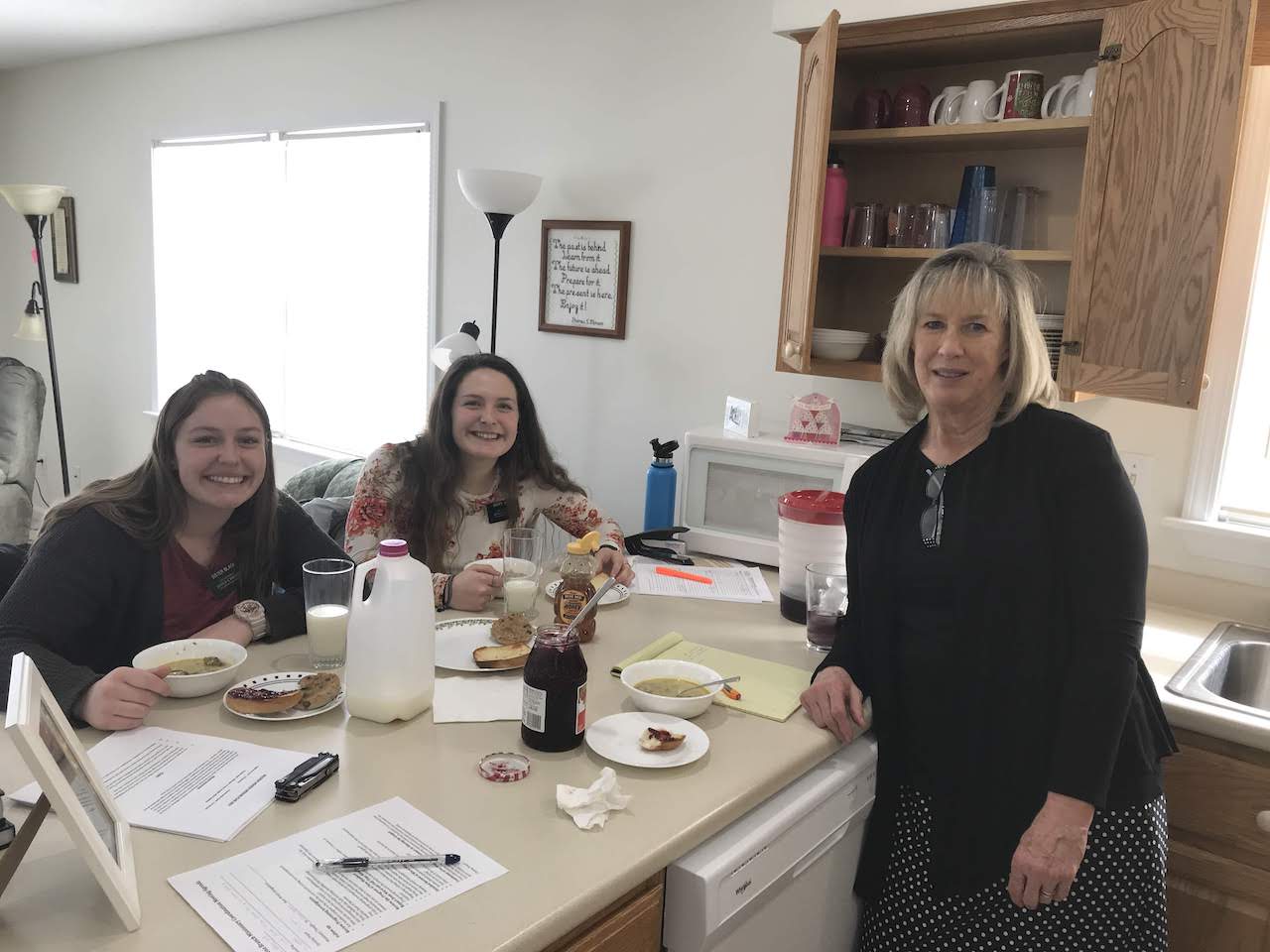 We realized that we never included a picture of the "Black & White Lei" that Karen made for the Luau - you just combine two colors of crepe paper streamers and it turns out very cute. (Just Google it - there's even a video on how to make them.)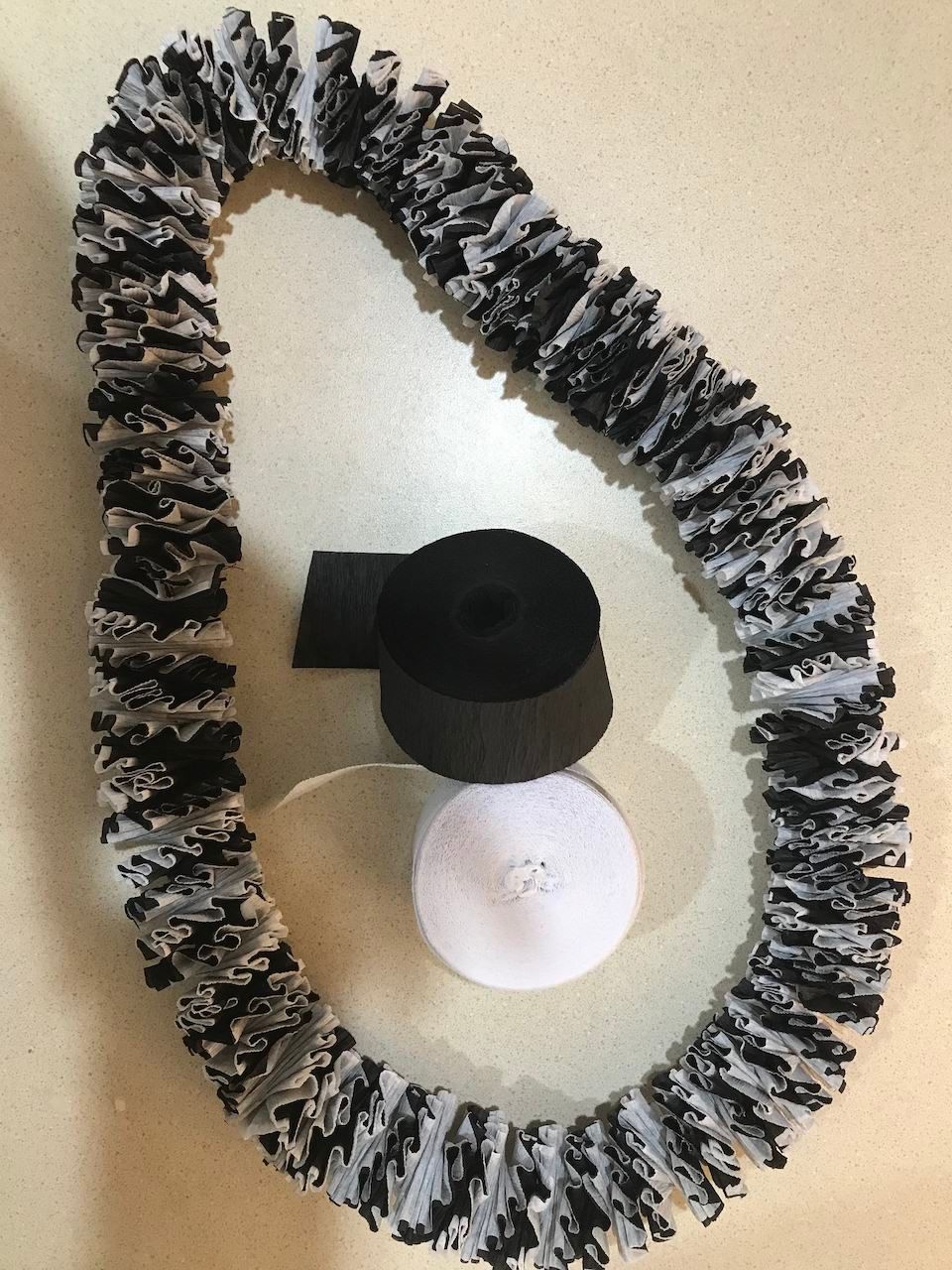 It's always fun to watch the deer at the Nature Center where we volunteer.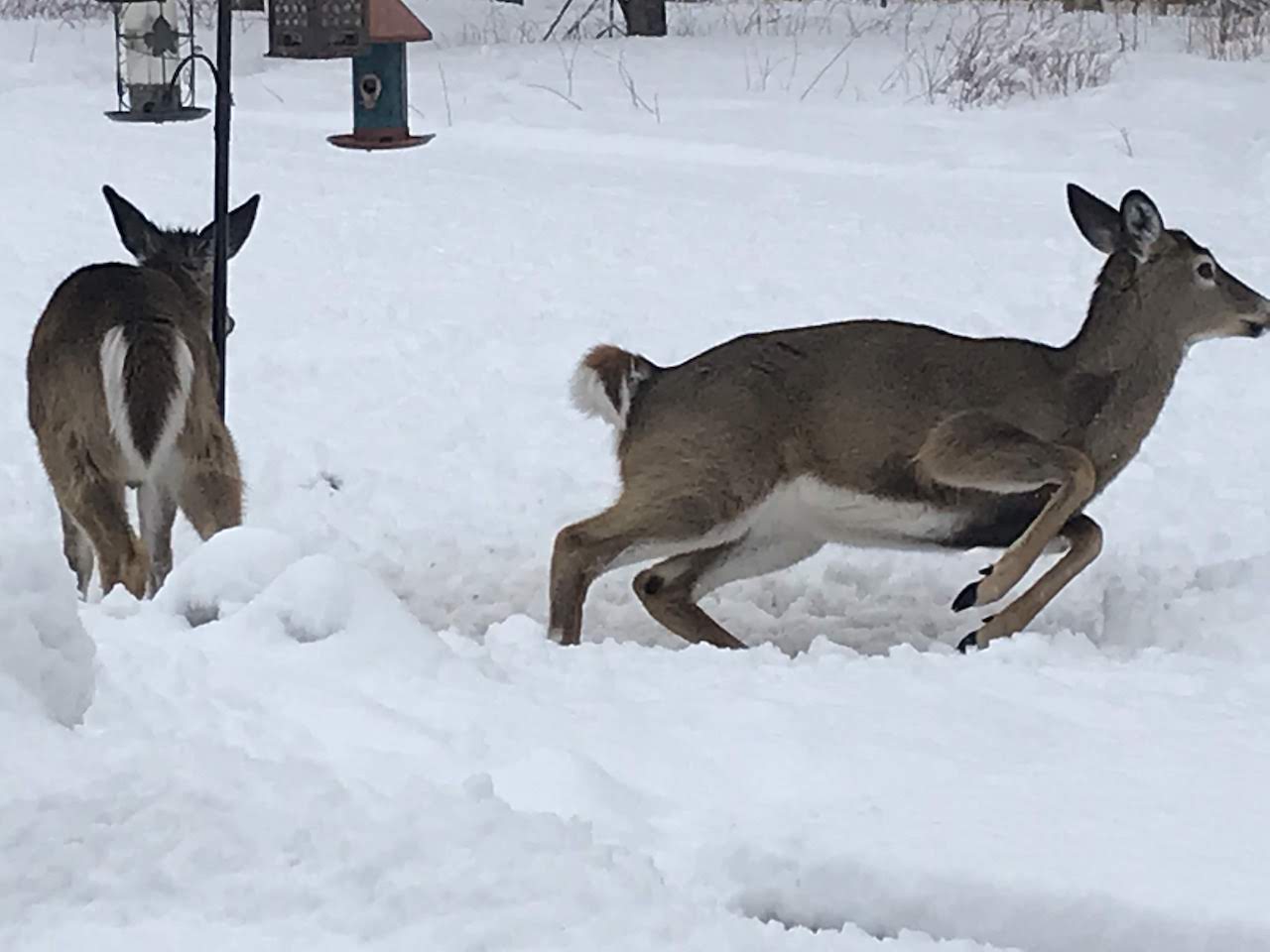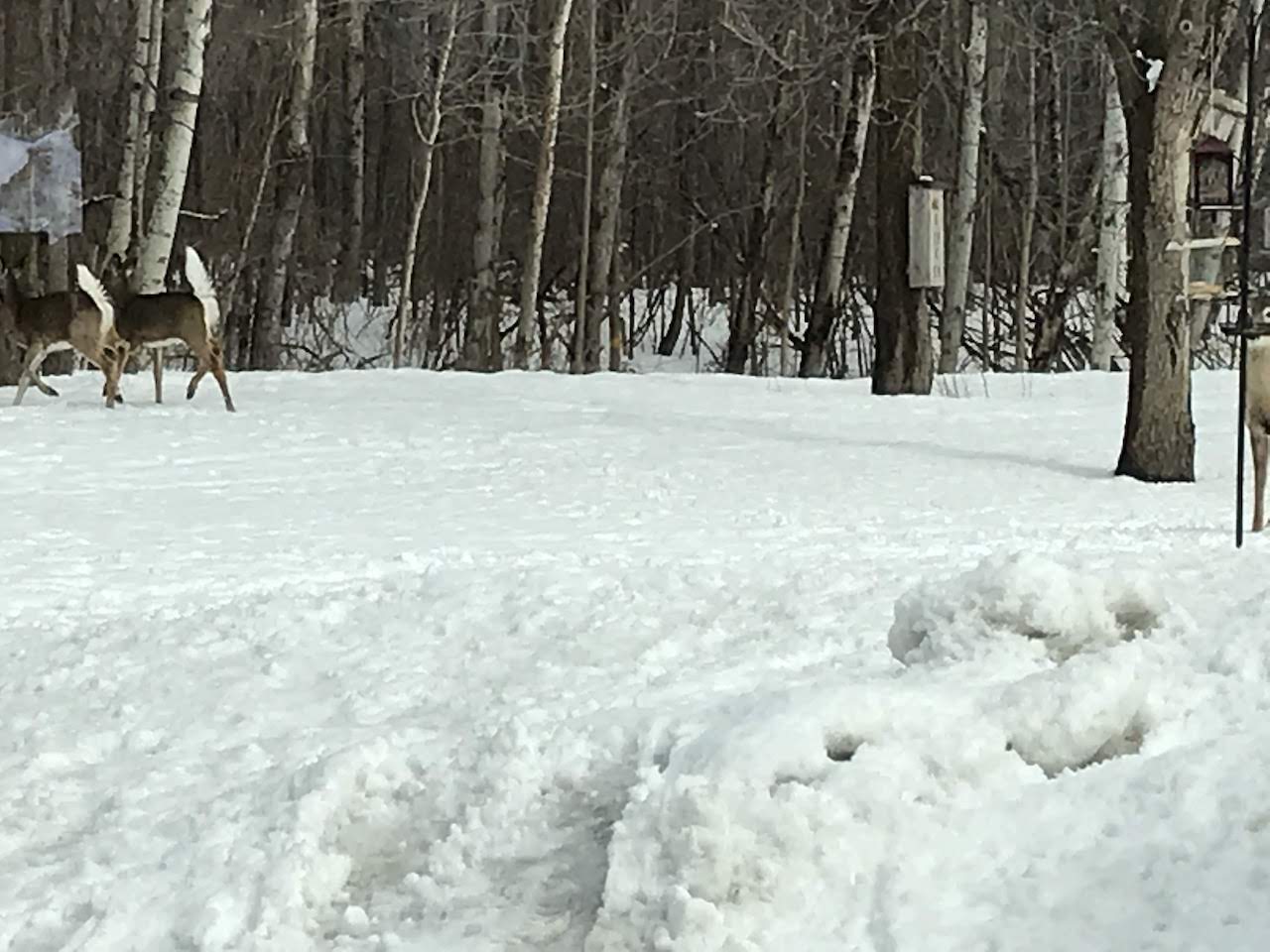 Since it is transfer week, tradition has it that the Districts take a picture together. We were asked to attend District meeting in Potsdam this week because our District Leader had an assignment to complete during our regular meeting. (He is also the Zone Leader and he had Zone Leader business to take care of, so we got a picture of the Potsdam District Missionaries.)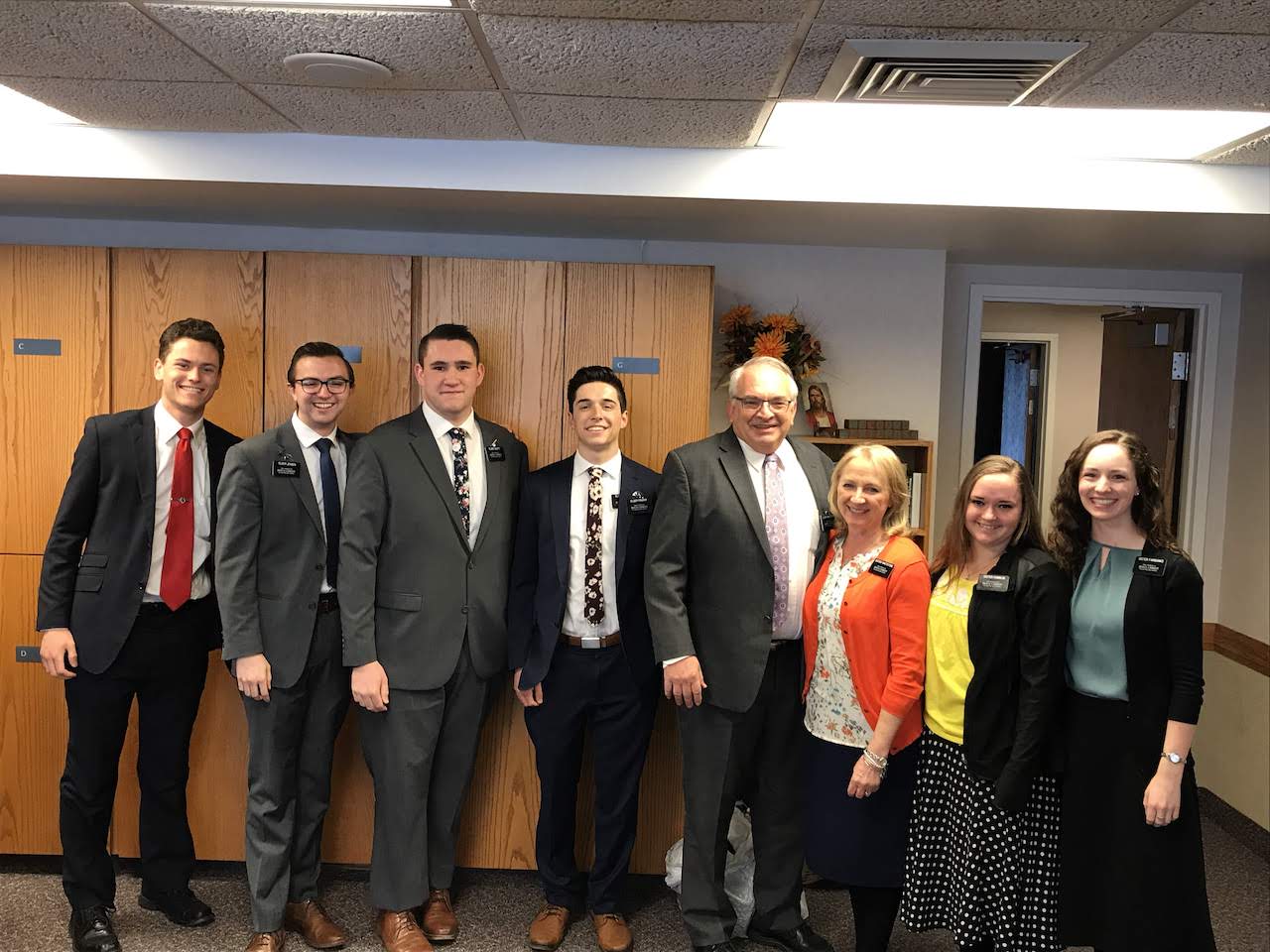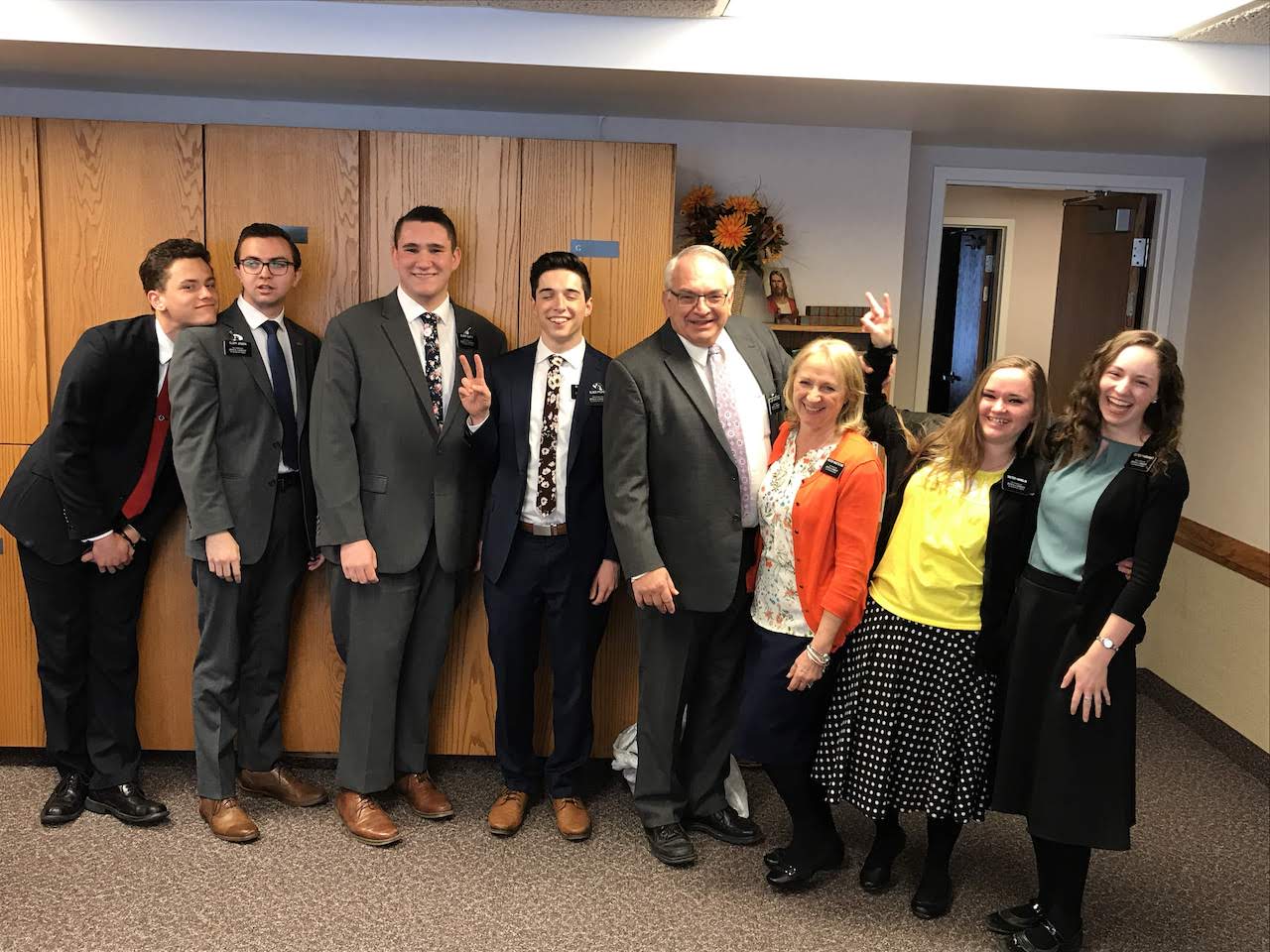 We keep hoping that we won't have any more winter pictures to share - but no such luck yet.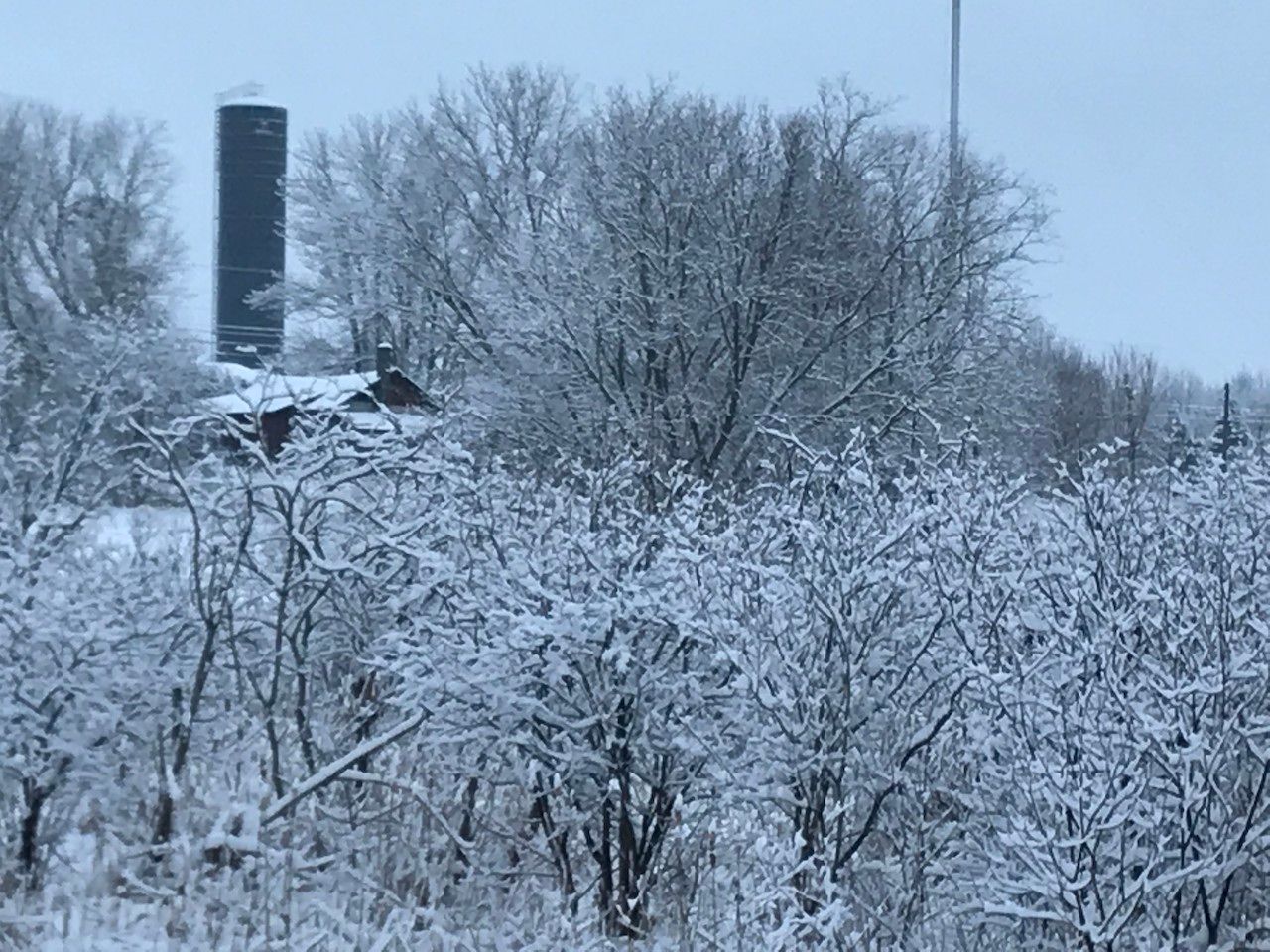 We go to the World Class Gym early in the mornings. Only it's not so, World Class - the roof leaks like crazy and they have big 30 gallon trash cans all over catching the water from the snow melt. Only I guess things got out of control this week. This is what we found we arrived bright and early one morning: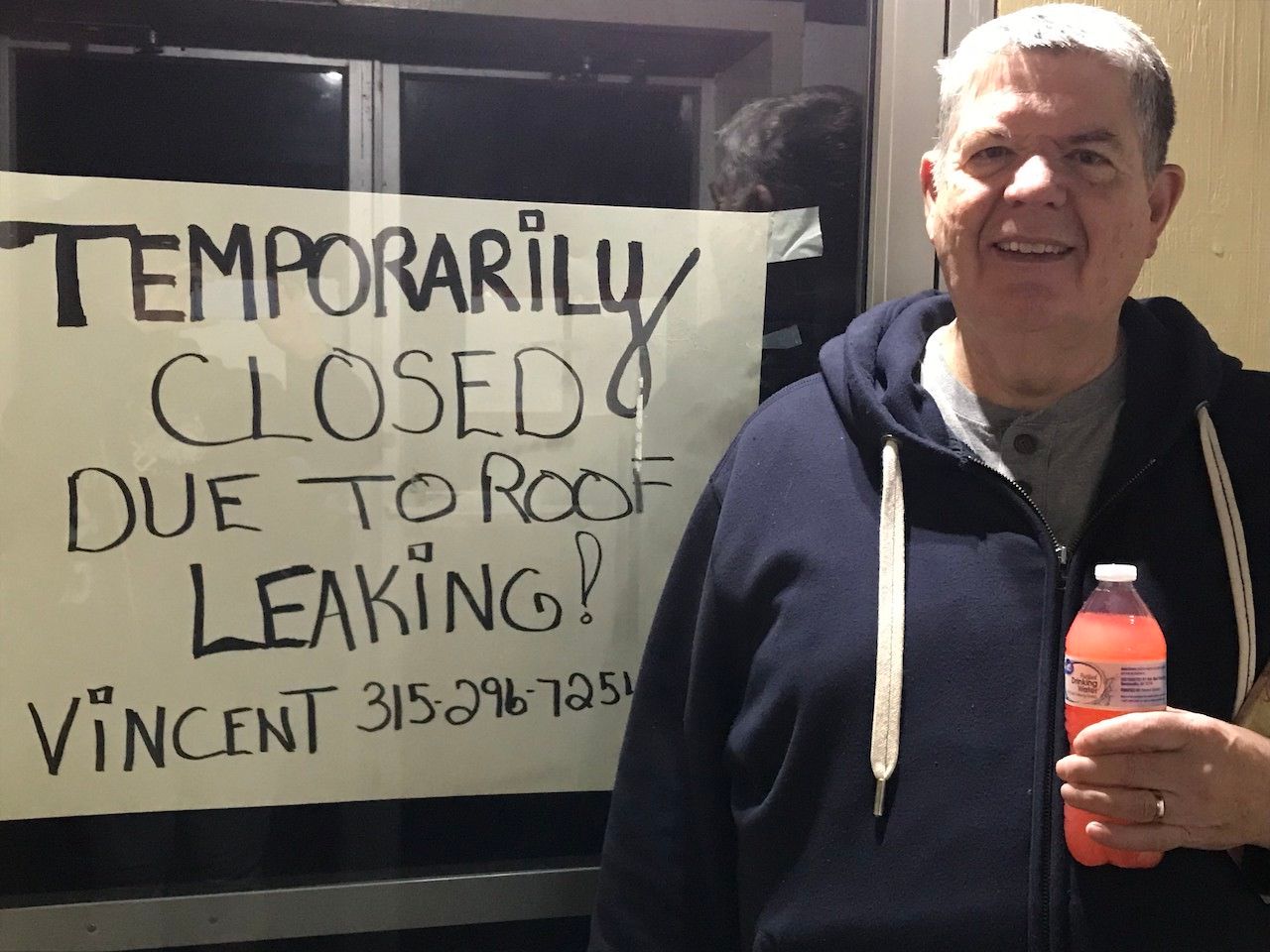 Breaking News!!!  Breaking News!!!  Breaking News!!!
It has been reported that there has been a scandal in a local potato eating contest: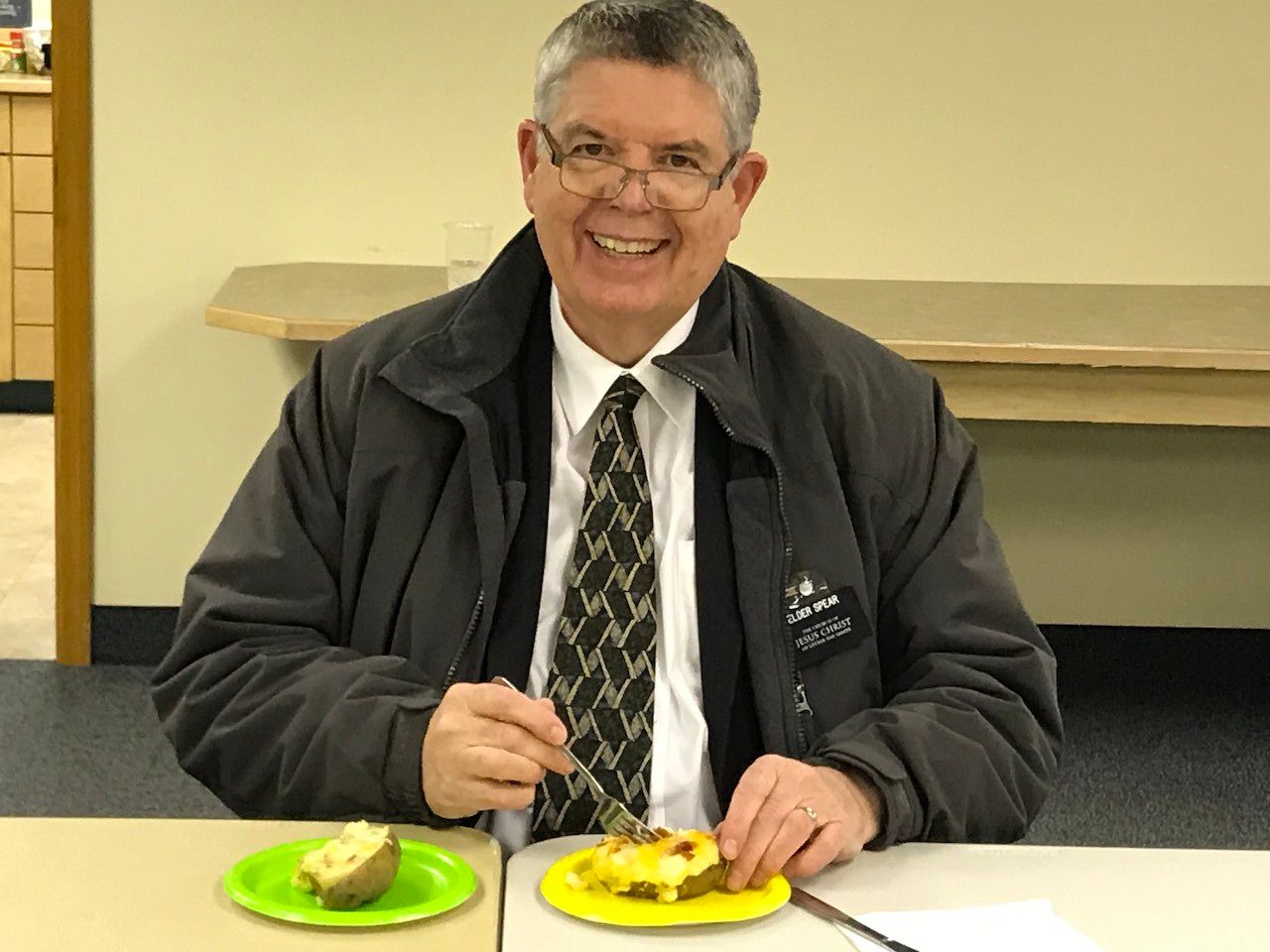 After a thorough investigation, it was determined that the contest was fixed and there were bribes involved!!!! Although it appears that no charges are pending because fun was had by all!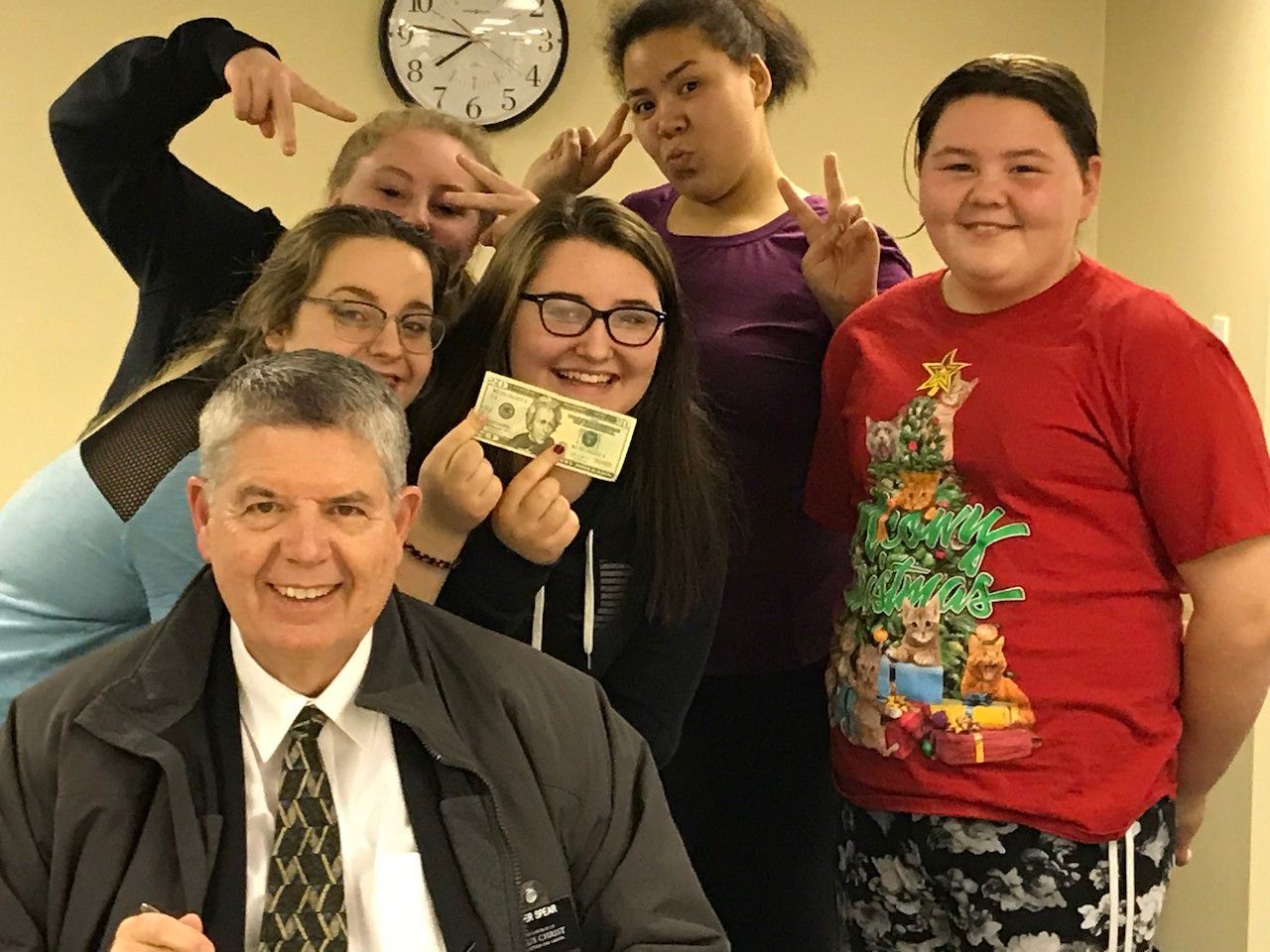 We continue to have fun and are enjoying the many wonderful experiences that we have as we interact with the members of the Massena Branch. Who said it had to feel like work?